Visit Opto Engineering at OPTATEC!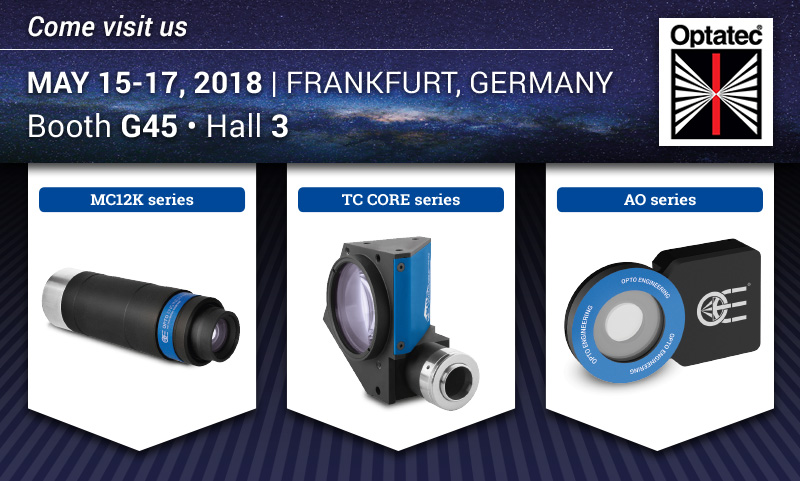 Frankfurt, 15-17 May 2018
Booth G45, hall 3

Opto Engineering established in 2017 a new joint venture, Dynamic Optics, whose mission is designing and manufacturing standard and customized:
multi-actuator adaptive optics

multi-actuator deformable mirrors

wavefront sensors

related software and electronic
s
Opto Engineering will support Dynamic Optics as co-exhibitor during Optatec Exhibition. We kindly invite you to attend
Optatec Exhibition
from 15th to 17th May 2018
Mr Stefano Bonora, Chief Researcher at Dynamic Optics, will have a presentation on Tuesday, 15th May, at 9.40 a.m. at the Forum (hall 3, booth G70). Don't miss the opportunity to discover all the applications about our technologies and products!
Be the first to visit our booth at Optatec Frankfurt (Hall 3, Booth G45) and discover all the news about the Opto Engineering company and its products!
Let us inspire you with our many attractive contents and take a look of our Live Setups.
We will be glad to offer you a coffee and some nice snack!
We encourage you to schedule a meeting with one of our local sales engineers in advance to discuss about your specific needs.
OPTICS & LIGHTING
CORE product family enlargement
The family of telecentric CORE lenses for sensors up to 2/3″ and 4/3" now has 7 new models for large object measurement. Their truly revolutionary ultra compact opto-mechanical design precisely measures large FOV objects up to 130mm diameter. These lenses deliver high-end optical performances and, at the same time, are up to 70% smaller than other telecentric lenses on the market.
The new line-up of telecentric CORE illuminators LTCLCR120 perfectly fit new CORE telecentric lenses allowing to make precision measurements in a compact setup.
A smaller vision system or measurement machine is the solution preferred by the industry.
OPTICS
Adaptive lens for fast focusing, AO series • NEW
Dynamic industrial inspections need advanced technology to maintain focus in challenging applications. Adjusting the focus of a camera on a robot arm, or tracking items across the field of view, are common examples where active focusing is required.

For this reason, Opto Engineering® has developed a small plug-and-play focusing lens with embedded optics and electronics. Adjusting focus on the fly has never been so easy.
CAMERAS
High Resolution Cameras for the best image quality • NEW
Whether the application is industrial automation, wide area inspection, high-detailed metrology or large area surveillance, Opto Engineering focuses on the highest resolution possible, to give you the best image quality. Using the latest high resolution sensors, these rugged cameras allow for outstanding performance under harsh conditions. Additional features include pixel correction, flat-field correction, white balancing and much more. Combined with our large format optics, you have a winning solution!
Optatec Exhibition
15-17 May 2018 | Frankfurt
Booth G45, hall 3